A Farewell to Spots,Freckles,
and Birthmarks!!

Internal Medicine,EGastroenterology
Ophthalmology,ESurgery
Gynecology,EOrthopaedic Surgery
Moxibustion,EChinese Medicine

Information on Laser Treatment

Medical Examination for Companies
and Annual Checkups.

Doctors , Nurses and Pharmacists Wanted.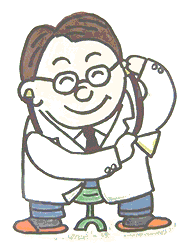 Acceptance Hours:
Week Days:
9:00A.M.-1:00P.M.
3:00P.M.-7:00P.M.
Sat:
9:00A.M.-1:00P.M.
Closed On:
Afternoon Wednesdays
National Holidays
Sundays
Most of Insurance,Credit cards and US currency are acceptable.